BeHear® NOW 简单、时尚、实惠: 全面 提高听力
拯救听力的先进技术
多年来,Alango 技术公司一直致力于现代助听器所使用的或类似技术的专业领域研发,包括:声波束形成、声反馈抵消、降噪、自动增益控制、频域均衡和动态范围压缩。虽然最初是为通信市场而开发,但是我们发现这些技术也可以为轻度至中度听力损失的人群带来福音。凭借我们在数字声音处理 (DSP) 技术方面丰富的经验,我们将先进技术融入消费类电子产品,打造一个现代时尚而又功能多样、极具个性化、质美价优的助听器替代产品。Wear & Hear 系列个性化听力设备由此诞生。
Wear & Hear 设备提供了一种完全个性化的听力体验,即使是轻度至中度听力损失的人群也能轻松获得这种体验。重要的环境声音、人声以及来自所有音源的声音都被放大、增强和调整适配,以满足个人的听觉偏好。
Wear & Hear 系列产品的基本特点
自拟合 – 通过免费的 iOS 和 Android 版 Wear & Hear BeHear 应用程序,使用其提供的自我听力评估功能,实现简单和自动的个性化体验
实惠 – 集合先进助听器的所有产品特点,但价格更实惠
先进技术 – 语音和音频的放大和清晰化,包括降噪、将手机通话中的语音变慢,以及在听音乐时传递重要声音
设计 – 如同其他流行耳机,拥有时尚、新颖而又直观的消费类电子产品的设计
连接 – 支持蓝牙®协议,提高手机通话的清晰度和流媒体音乐的倾听体验
音质 –采用领先品牌耳机的顶级声学元件和先进的芯片组,确保最佳品质的声音体验
升级 – 基于 Alango 技术公司的创新软件,所有的 Wear & Hear 产品都使用"空中下载"(OTA) 技术定期更新,让客户轻松畅享发布的新功能
BeHear NOW 現已於香港發售, 可親臨以下零售點或網上購買:
BeHear NOW 是一款个人听力设备 (PHD),结合了可定制的数字助听器、蓝牙®立体声耳机和辅助听力设备的功能。
Buy Now

Share this:
Want More Information?
Join our mailing list to get updates about BeHear pricing and availability.
Where to Buy BeHearTM
The BeHear headsets are available for purchase from our on-line store (along with the HearLink and HearLink PLUS assistive listening transmitters). For bulk purchase pricing, contact us here.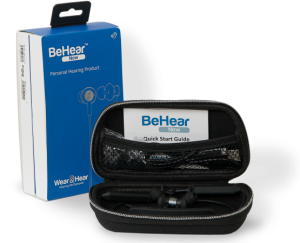 Buy Now
Follow Us on Twitter
Upcoming Events
UK Care Week absorbs past healthcare brands (Dementia, Care & Nursing Home Expo and the Home Care Expo) into an event that is inclusive to the whole care industry. Alango BeHear is proud to sponsor the event with a demo booth and speaking session showcasing hearing enhancement products and technologies that improve patient-professional communication. NEC, … Continue reading "UK Care Expo"
The mission of TEDPA (Telecommunications Equipment Distribution Program Association) is to convene for the purpose of information exchange and to assist one another with the administration of specialized telecommunications equipment distribution programs for persons with disabilities. At the TEDPA 2022 event state telecommunications equipment distribution program administrators will learn about new and existing technology from … Continue reading "TEDPA"
Read More