מגבר שמיעה חכם BeHear NOW
מגבר שמיעה חכם מותאם אישית לשיחות פנים מול פנים, שיחות באמצעות הטלפון הנייד והאזנה למוזיקה.
מיועד לירידות שמיעה קלות עד בינונית-חמורות
הגברת שמע מותאמת אישית
4 מצבי שמיעה מוגדרים מראש
יישומון (אפליקציה) תומך ייעודי
12 שעות שימוש לאחר הטענה מלאה
14 יום ניסיון • אחריות לשנה • משלוח חינם
$149
BeHear NOW הינו מגבר שמיעה אלגנטי, מתקדם טכנולוגית ונוח לשימוש, תוצרת חברת אלאנגו טכנולוגיות הישראלית, המשלב 3 תכונות חשובות לשיפור השמיעה במכשיר אחד:
מגבר שמיעה לשיפור הבנת הנשמע
אוזניית בלוטות' לשיחות בטלפון הנייד והאזנה למוזיקה
מענה איכותי לשיפור הבנת הנשמע בזמן הצפייה בטלוויזיה, בשילוב עם משדר בלוטות' מדגם HearLink PLUS
* HearLink PLUS – נרכש בנפרד
המגבר עובד בשילוב עם יישומון (אפליקציה) ייעודי בטלפון החכם שברשותכם, המתאים את ההגבר במהלך השימוש בהתאם לנתוני השמיעה האישיים שלכם .
ניתן להוריד את היישומון חינם מגוגל פליי (Google Play Store)   (Apple Store) או אפל סטור
---
מצבים בהם BeHear NOW משפר את השמיעה:
שיחות פנים מול פנים
שיחות בטלפון הנייד
האזנה למוזיקה
צפייה בטלוויזיה
קולנוע, תיאטרון וקונצרטים
---
התאמה אישית ליכולות השמיעה ולהעדפות שלכם
המגבר כולל את היישומון הייעודי BeHear, באמצעותו ניתן לבצע מגוון פעולות:
ביצוע הערכת שמיעה אישית להתאמה של המגבר לצרכי השמיעה הייחודיים שלכם.
שינוי ובחירה בפרופיל השמיעה הרצוי – פנים, חוץ, קהל, הופעה חיה, סליל השראתי בלבד– T-Coil וסליל השראתי -T-Coil בשילוב עם קולות הסביבה.
גישה ישירה לספריית מדריכי הווידיאו.
אפשרות לביצוע איזון (באלאנס) בין אוזן ימין לשמאל, כאשר קיים הפרש בעוצמות ההגברה בין האוזניים.
הגדרות התקן שונות, כולל הגדרת מצב ברירת מחדל, התראות ברטט ועוד.
ניתן להוריד בחינם את היישומון BeHear מחנות גוגל פליי (Google Play Store) ואפל סטור (Apple Store)
מפרט טכני
Electrical Specifications
Bluetooth
Version 4.2, Class II
HFP 1.6, HSP 1.2, A2DP
Supported audio CODECs: SBC, aptX, aptX-LL
Range: 10m
Acoustic Performance
Maximal Sound Pressure Level (OSPL90), HFA: 116 dB SPL
Full-on Gain, HFA: 42 dB
Total Harmonic Distortion (THD): < 0.7%
Receiver Specifications

Speaker: 13.6 mm receivers
Frequency Response: 20 Hz to 20 kHz

Microphone Specifications

Microphones (four in total):

Ultra low-noise 74 dB SNR ECM (Electret Condenser Microphone) in each earpiece
Low-noise digital 64 dB SNR MEMS in each control box

Frequency Response: 100 Hz to 15 kHz
Battery
Rechargeable single cell Lithium Ion
Charging interface: Micro-USB
Capacity: 250mAh
Software Versions Supported by W&H BeHear App
Android: Version 4.4 and up
iOS: Version 9 and up
Operation Time
Hearing mode: 12+ hours
Talk: 10+ hours
Play: 8+ hours
Standby: 400 hours
Mechanical Specifications
Headset Weight: 29 g (1.0 oz.)
Wearing Style: Neck loop (behind the neck)
Vibration Alerts
(enabled/disabled using the BeHear NOW smartphone application, Settings menu):
Power On/Off
Bluetooth Pairing
Bluetooth Connection/Disconnection
Connecting to Charger
Incoming Call (synchronized with call tone)
Agency Approvals
CE RED
FCC
TELEC
SRRC
NCC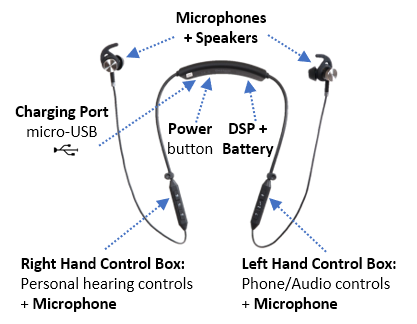 שמעו את זה מלקוחות מרוצים
Kindle Customer
June 4, 2021.
Equipment is fantastic, but cable cords tend to deteriorate fast won't increase cost significantly a batter gauge and more resistent cables to wear and tear
Ron Nowaczyk
May 2, 2021.
Need to take the time to set it up properly. Set up is easy but requires fine tuning to get the best results. Perfect for someone that likes full control of all settings without having to go to an audiologists.
Albert moots
April 24, 2021.
learning all about this product and multiple product videos has shown me how the features work. They are excellent quality . My charge over night lasts all day which for this old man is 12 hours. Thank you
Nourah Mumeen
March 10, 2021.
Order arrived quickly and Product is awesome.
Amazon Customer
February 2, 2021.
Great product! I loved it at CES last year and just had to have it.
Kindle Customer
January 31, 2021.
Since it was easy to lose other types, this one is hard to misplace and works well and can be programmed by the user with mild to moderate hearing loss.
Excellent service Received in perfect condition and earlier than perdicted.
Quite pleased with this seller. Product arrived in time for Christmas.
Ines Monguio
January 3, 2021.
arrived promptly. Instructions detailed and accurate. Easy to use.