מבצע!
מערכת שמיעה אישית לטלוויזיה של BeHear PROXY
רמקול אלחוטי לצוואר עם שמע מותאם אישית ומשדר שמע Bluetooth
חוויית שמע עשירה בזמן צפייה בטלוויזיה
משדר ארוך טווח המאפשר חופש תנועה
עובר בקלות בין שידור קול מטלוויזיה לשיחות בטלפון הנייד
מתאים גם לשימוש עם מכשירי שמיעה
14 יום ניסיון • אחריות לשנה • משלוח חינם
צליל היקפי על הכתפיים שלכם
BeHear PROXY הוא שילוב של רמקול צוואר אלחוטי עם מיקרופון, המופעל על ידי טכנולוגיית השמע המתקדמת של אלאנגו.
מותאם אישית – לצרכי השמיעה הייחודיים שלכם
נוח – קל משקל, צליל באיכות גבוהה באמצעות זוג רמקולים הממוקמים על הכתפיים שלכם ומשאיר את האוזניים פנויות
קרוב לאוזניים – מקרב את הצליל לאוזניים לחוויה אישית, סוחפת, בשילוב האוזניות הנשלפות, המאפשרות האזנה בפרטיות, במידת הצורך
---
HearLink PLUS – משדר מתקדם
HearLink PLUS הינו משדר מתקדם המשפר את ההבנה בזמן הצפייה בטלוויזיה ובעת האזנה למקורות שמע אחרים. המשדר מתחבר ל BeHear PROXY באמצעות בלוטות' והשילוב של שניהם מספק הגברה מותאמת אישית של הנאמר בטלוויזיה. כאשר האפשרות של ListenThrough מופעלת, תוכלו גם לשמוע צלילי סביבה חשובים אחרים.
---
יתרונות נוספים
ללא עיוותים, שידור לטווח ארוך, שמיעה נקייה ללא הפרעות, ניתן לשימוש עם שתי אוזניות בלוטות' בו-זמנית. מכיל טכנולוגיית Qualcomm aptX המונעת בעיות סנכרון של קול ותמונה. שידור עוצמתי לטווח של 50 מטר מספק חיבור רציף.
---
יותר מאשר פתרון להאזנה לטלוויזיה
האם קרה לכם שמישהו התקשר אליכם בזמן שאתם צופים בטלוויזיה? בזמן כניסת שיחה לטלפון הנייד השמע מהטלוויזיה יושתק ותועברו ב PROXY לשיחת הטלפון. עם סיום שיחת הטלפון השמע מהטלוויזיה יתחדש אוטומטית ב PROXY; טכנולוגיית ListenThrough™ תאפשר לכם לשמוע את פעמון הדלת או צלילים חשובים אחרים מהסביבה תוך כדי ההאזנה לטלוויזיה; באמצעות טכנולוגיית EasyListen™ להאטת קצב הדיבור בטלפון הנייד, תוכלו להבין ללא מאמץ את השיחות. בנוסף, תיהנו מהפחתת רעשי הסביבה במהלך שיחות פנים אל פנים, שיחות בטלפון הנייד והאזנה למוזיקה.
---
נוח. ייחודי. מותאם אישית.
לא עוד אוזניות מגושמות או אוזניות שמחממות את האוזניים! PROXY יושב בנוחות על הצוואר והכתפיים.
תוכלו ליהנות מהאוזניות הנשלפות להאזנה בפרטיות, מבלי להפריע לסביבה ומצליל איכותי המותאם לכם אישית.
מפרט טכני
Electrical Specifications
Bluetooth
Bluetooth compliance: Bluetooth v.4.2 + EDR + Low Energy
Supported Bluetooth profiles: HFP v1.6, HSP v1.2, A2DP v1.2
Bluetooth transmission power: Class II, +4dBm
Operating range: 10m (~33 ft)
Paired devices: Supports two simultaneous connections (multi-point)
Audio
Loudspeakers
Frequency range: 20Hz – 20kHz
Sensitivity:102dB ± 3dB @ 1mW
Earphones
Frequency range: 20Hz – 20kHz
Sensitivity: 102dB ± 3dB @ 1mW
Microphone
Low noise
Type: Omni-directional MEMS
Frequency range: 50Hz – 10kHz
Latency (aptX Low Latency)
Streamed audio: 40 msec
Live audio: 15 msec
Battery
Battery capacity: 1050mAh
Operation Time

Personal sound amplification: up to 50 hours
Calls using earphones: up to 45 hours
Media play using earphones: up to 40 hours
Media play using loudspeakers: up to 10 hours

Standby time ≥ 1300 hours
Charging time ~3 hours
Charging interface micro-USB
Mechanical Specifications
Wearing style: Around the neck
Weight: 256g (9 oz.)
Certifications
Specifications are subject to change without prior notice.
BeHear PROXY Functional Diagram
HearLink PLUS Technical Diagram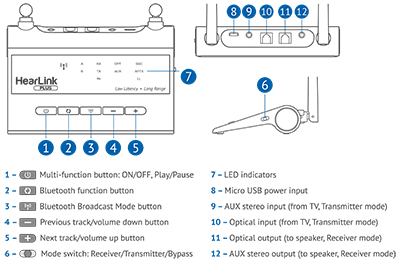 שמעו את זה מלקוחות מרוצים
Kindle Customer
June 4, 2021.
Equipment is fantastic, but cable cords tend to deteriorate fast won't increase cost significantly a batter gauge and more resistent cables to wear and tear
Ron Nowaczyk
May 2, 2021.
Need to take the time to set it up properly. Set up is easy but requires fine tuning to get the best results. Perfect for someone that likes full control of all settings without having to go to an audiologists.
Albert moots
April 24, 2021.
learning all about this product and multiple product videos has shown me how the features work. They are excellent quality . My charge over night lasts all day which for this old man is 12 hours. Thank you
Nourah Mumeen
March 10, 2021.
Order arrived quickly and Product is awesome.
Amazon Customer
February 2, 2021.
Great product! I loved it at CES last year and just had to have it.
Kindle Customer
January 31, 2021.
Since it was easy to lose other types, this one is hard to misplace and works well and can be programmed by the user with mild to moderate hearing loss.
Excellent service Received in perfect condition and earlier than perdicted.
Quite pleased with this seller. Product arrived in time for Christmas.
Ines Monguio
January 3, 2021.
arrived promptly. Instructions detailed and accurate. Easy to use.