Sale!
BeHear NOW Personal TV Sound System
TV listening system including personal amplifier
Clear, crisp dialogue with no lip sync issues
High quality, personalized TV and world sounds
Long-range transmitter for freedom of movement
Lightweight and comfortable neckloop amplifier
Switches easily between TV sound and mobile calls
30-Day Trial • 1-Year Warranty • Free Shipping Worldwide
BeHear NOW utilizes voice processing technologies developed by Alango Technologies, Ltd. over the past two decades, such as:
ListenThrough™ – Passes through important ambient sounds during music playback
EasyListen™ – Slows down speech dynamically during phone conversations
Personal Sound Amplifier – Provides dynamic, compressed amplification of ambient sounds
Hearing enhancement functions – Includes noise reduction, echo cancellation, and more
---
HearLink PLUS is a low-latency, long-range assistive listening transmitter for television and other audio sources. It pairs with BeHear NOW using Class I Bluetooth to stream audio from optical or analog outputs directly to the headset. With this bundle, you can enjoy personally optimized sound sent directly from the source directly to your ears. When the ListenThrough option is activated, you will also be able to hear nearby conversation, and other important ambient sounds as well.
---
A TV Watching Solution Like No Other
ADJUST, WEAR, AND HEAR – Unlike standard PSAP devices, where "one setting fits all", your headset + transmitter bundle by Wear & Hear lets you amplify and clarify exactly what you want to hear, taking your unique hearing capabilities into account. Use the Android/iOS app to take a simple hearing assessment and curate your own personal hearing profile automatically.
---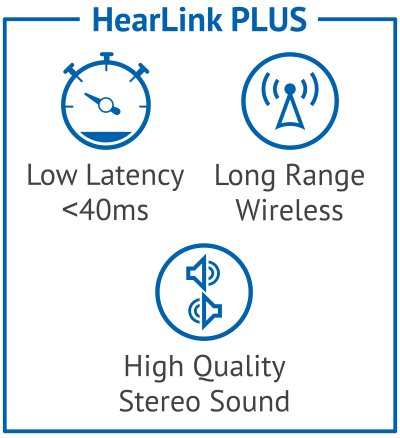 DISTORTION-FREE & LONG-RANGE – Hear without interruption, distortion, or distraction! Qualcomm aptX low latency technology avoids lip sync issues. Direct transmission eliminates distortion and room reverberation. And the powerful, long range (200 ft.) transmitter ensures continuous connection—even when you leave the room.
---
MORE THAN A TV HEADSET – Did someone call you while you're watching a program? The TV audio stream will be muted for the duration of the call and will resume automatically once the call ends; the ListenThrough™ feature allows you to hear the doorbell or other important sounds while enjoying top quality audio; effortlessly understand mobile phone speech by slowing it down with the EasyListen™. Additionally, enhance audio during face-to-face conversations, mobile phone calls, and streamed music, while reducing ambient noise.
---
BETTER TOGETHER – Watching TV with a companion? Your BeHear NOW headphones pick up both the TV audio AND your companion's voice, so you can watch and chat simultaneously!
---
THE SOUND OF SATISFACTION – Almost twenty years of expertise in developing and integrating advanced sound enhancement technology coupled with top quality components ensure that these products will meet and exceed your expectations. We prioritize your experience and support your device with a 1-year warranty, and free technology upgrades to keep you at the forefront of personalized sound technology.
Product Specifications
Headset Specifications
Bluetooth
Version 4.2, Class II
HFP 1.6, HSP 1.2, A2DP
Supported audio CODECs: SBC, aptX, aptX-LL
Range: 10m
Acoustic Performance
Maximal Sound Pressure Level (OSPL90), HFA: 116 dB SPL
Full-on Gain, HFA: 42 dB
Total Harmonic Distortion (THD):  < 0.7%
Receiver Specifications

Speaker: 13.6 mm receivers
Frequency Response: 20 Hz to 20 kHz

Microphone Specifications

Microphones (four in total):

Ultra low-noise 74 dB SNR ECM (Electret Condenser Microphone) in each earpiece
Low-noise digital 64 dB SNR MEMS in each control box

Frequency Response: 100 Hz to 15 kHz
Battery
Rechargeable single cell Lithium Ion
Charging interface: Micro-USB
Capacity: 250mAh
Software Versions Supported by W&H BeHear App
Android: Version 4.4 and up
iOS: Version 9 and up
Operation Time
Hearing mode: 12+ hours
Talk: 10+ hours
Play: 8+ hours
Standby: 400 hours
Mechanical Specifications
Headset Weight: 29 g (1.0 oz.)
Wearing Style: Neck loop (behind the neck)
Vibration Alerts (enabled/disabled using the BeHear NOW smartphone application, Settings menu):

Power On/Off
Bluetooth Pairing
Bluetooth Connection/Disconnection
Connecting to Charger
Incoming Call (synchronized with call tone)
Note: Specifications are subject to change without notice.
Agency Approvals
CE RED
FCC
TELEC
SRRC
NCC
Transmitter Specifications
Model No.: BT5805A
Bluetooth version: V5.0, Class I
Operating range: Tx mode: up to ~200 feet (~60 meters)
Supported profiles: A2DP, AVRCP
Supported audio codecs: aptX™ Low Latency, aptX™, SBC
Input/output audio: Stereo analog audio, optical fiber digital audio
Power supply: 5VDC, micro-USB
Current consumption: Up to 220mA
Operating temperature: 14 – 131°F (-10 – 55°C)
Net weight: 3.5 oz. (99 grams)
BeHear NOW Technical Diagram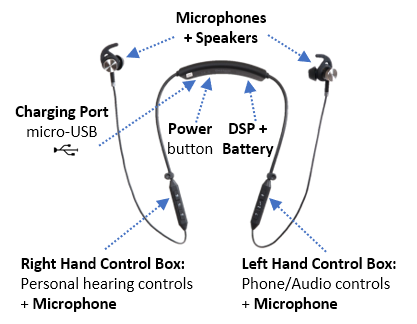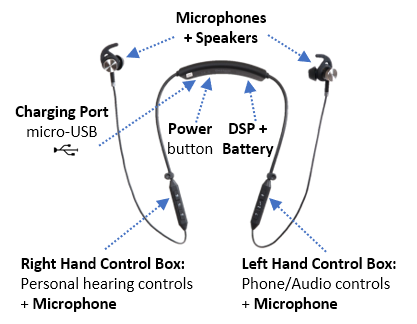 HearLink PLUS Technical Diagram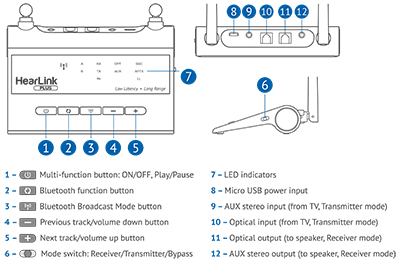 Hear it from satisfied users
Kindle Customer
June 4, 2021.
Equipment is fantastic, but cable cords tend to deteriorate fast won't increase cost significantly a batter gauge and more resistent cables to wear and tear
Ron Nowaczyk
May 2, 2021.
Need to take the time to set it up properly. Set up is easy but requires fine tuning to get the best results. Perfect for someone that likes full control of all settings without having to go to an audiologists.
Albert moots
April 24, 2021.
learning all about this product and multiple product videos has shown me how the features work. They are excellent quality . My charge over night lasts all day which for this old man is 12 hours. Thank you
Nourah Mumeen
March 10, 2021.
Order arrived quickly and Product is awesome.
Amazon Customer
February 2, 2021.
Great product! I loved it at CES last year and just had to have it.
Kindle Customer
January 31, 2021.
Since it was easy to lose other types, this one is hard to misplace and works well and can be programmed by the user with mild to moderate hearing loss.
Excellent service Received in perfect condition and earlier than perdicted.
Quite pleased with this seller. Product arrived in time for Christmas.
Ines Monguio
January 3, 2021.
arrived promptly. Instructions detailed and accurate. Easy to use.
Richard Whitish
December 6, 2020.
Better than I imagined they could be. They really help me hear clearer and better.