Sale!
BeHear PROXY Personal TV Sound System
Wireless neck speaker delivering superior sound with Bluetooth audio transmitter
Clear, crisp TV dialogue with no lip sync issues (supports aptX)
Long-range transmitter for freedom of movement
Loudspeakers located just below your open ears
Switches easily between TV sound and mobile calls
Can be used with hearing aids, if desired
30-Day Trial • 1-Year Warranty • Free Shipping Worldwide
Surround Sound on Your Shoulders
BeHear PROXY is a wireless Bluetooth neck speaker with low noise microphone, powered by Alango's advanced audio technology.
Rich stereo sound, inches from your open ears
Eliminates room reverberation and other distractions
Supports low latency aptX, enabling perfect audio-video synchronization with no lip sync issues
Pairs simultaneously and switches easily between TV and a smartphone
---
HearLink PLUS is a low-latency, long-range assistive listening transmitter for television and other audio sources. It pairs with BeHear PROXY using Bluetooth to stream audio from optical or analog outputs directly to the headset. With this bundle, you can enjoy personally optimized sound sent directly from the source directly to your ears. When the ListenThrough option is activated (in earphones mode), you will also be able to hear nearby conversations, and other important ambient sounds as well.
---
Distortion-Free and Long Range
Hear without interruption, distortion, or distraction! Qualcomm aptX low latency technology avoids lip sync issues. Direct transmission eliminates distortion and room reverberation. And the powerful, long range (200 ft. – 60 m.) transmitter ensures continuous connection—even when you leave the room.
---
More Than a TV Headset
Did someone call you while you're watching a program? The TV audio stream will be muted for the duration of the call and will resume automatically once the call ends; the ListenThrough™ feature allows you to hear the doorbell or other important sounds while enjoying top quality audio (in earphones mode); effortlessly understand mobile phone speech by slowing it down with the EasyListen™. Additionally, enhance audio during face-to-face conversations, mobile phone calls, and streamed music, while reducing ambient noise (in earphones mode).
---
Comfortable. Versatile. Personalized.
No more bulky headphones, or annoying earbuds that heat up your ears! This flexible neckband twists easily for placement around your neck and rests gently on your shoulders. It includes extractable earbuds for private listening, so you can enjoy customized, clear sound from TV programs without disturbing anyone.
---
The Sound of Satisfaction
Almost twenty years of expertise in developing and integrating advanced sound enhancement technology coupled with top quality components ensure that these products will meet and exceed your expectations. We prioritize your experience and support your device with a 1-year warranty, and free technology upgrades to keep you at the forefront of sound technology.
Product Specifications
Electrical Specifications
Bluetooth
Bluetooth compliance: Bluetooth v.4.2 + EDR + Low Energy
Supported Bluetooth profiles: HFP v1.6, HSP v1.2, A2DP v1.2
Bluetooth transmission power: Class II, +4dBm
Operating range: 10m (~33 ft)
Paired devices: Supports two simultaneous connections (multi-point)
Audio
Loudspeakers
Frequency range: 20Hz – 20kHz
Sensitivity:102dB ± 3dB @ 1mW
Earphones
Frequency range: 20Hz – 20kHz
Sensitivity: 102dB ± 3dB @ 1mW
Microphone
Low noise
Type: Omni-directional MEMS
Frequency range: 50Hz – 10kHz
Latency (aptX Low Latency)
Streamed audio: 40 msec
Live audio: 15 msec
Battery
Battery capacity: 1050mAh
Operation Time

Personal sound amplification: up to 50 hours
Calls using earphones: up to 45 hours
Media play using earphones: up to 40 hours
Media play using loudspeakers: up to 10 hours

Standby time ≥ 1300 hours
Charging time ~3 hours
Charging interface micro-USB
Mechanical Specifications
Wearing style: Around the neck
Weight: 256g (9 oz.)
Certifications
Specifications are subject to change without prior notice.
BeHear PROXY Functional Diagram
HearLink PLUS Technical Diagram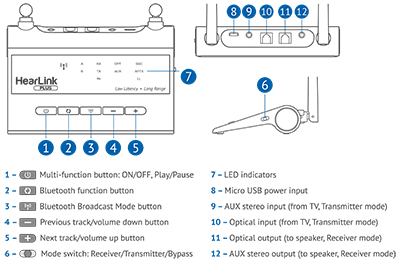 Read What Our Customers Have to Say