BeHear® ACCESS Personalized Hearing Amplifier
BeHear® ACCESS is a stylish personal hearing device for people with mild to moderate hearing loss, or for those that need enhanced hearing in specific situations.
While it looks and functions like a Bluetooth® stereo headset, BeHear ACCESS also includes fully customizable hearing amplification and noise reduction for live conversations, mobile phone calls, music play, and ambient sounds. It clarifies speech (and if needed during mobile phone calls, slows it down!), and enhances music. The headset also includes two telecoil receivers to deliver optimal sound in locations outfitted with induction loop technology. This product overcomes the stigma, expense, and limited functionality of a traditional hearing aid by combining advanced hearing technology and consumer electronics to put you in charge of your own hearing.
Simple, Built-in, Self-Administered Hearing Assessment
A free application (downloadable from Google Play or Apple Store) that runs on your smartphone can be used to administer a simple hearing assessment. Using the assessment results, the product automatically adjusts voice and audio input controls to suit your hearing levels, creating various profiles based on the listening environment (indoors/outdoors, crowded/sparse, etc.). You can fine tune these profiles at any time using a simple procedure.
Advanced Bluetooth Stereo Headset…and More
BeHear functions as a Bluetooth headset with advanced capabilities, personal sound amplifier and, when paired with a transmitter, as an assistive listening device. While it can be used in a standalone mode, it is also tunable and customizable from a smartphone.
BeHear allows you to stay connected to your environment while listening to music. With ListenThrough™ sound enhancement technology, a smart algorithm that allows important sounds through to your ears, you'll be able to listen to music and engage in your favorite activities while remaining alert to important ambient sounds.
BeHear also helps improve your hearing comprehension. While talking on the phone or listening to voicemail, EasyListen™ technology slows down speech to improve intelligibility of "fast talkers", foreign languages, and recorded messages.
BeHear pairs with the HearLink™ TV transmitter to send the television's audio signal directly to the paired BeHear ACCESS headset, thus eliminating ambient noises, room reverberation, and other types of sound interference which hamper intelligibility of speech and music appreciation.
Availability
BeHear ACCESS is scheduled for initial release (pilot) in November 2019. To receive early notice of its availability, sign up for our newsletter here.
Resources for BeHear ACCESS (ABH-120)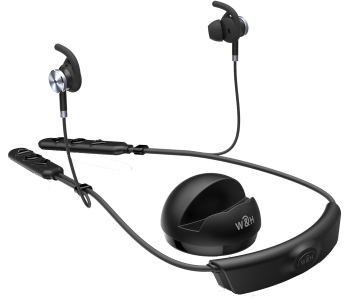 BeHear ACCESS is a personal hearing device, with built-in hearing enhancement and telecoil receivers, housed in a high-quality Bluetooth personalizable headset.
Buy Now

Share this:
Want More Information?
Join our mailing list to get updates about BeHear pricing and availability.
Where to Buy BeHearTM
The BeHear NOW headsets are available for purchase from our on-line store (along with the HearLink assistive listening transmitter). For bulk purchase pricing, contact us here.
Buy Now
Follow Us on Twitter
Upcoming Events
CES is the world's gathering place for all who thrive on the business of consumer technologies. It has served as the proving ground for innovators and breakthrough technologies for 50 years — the global stage where next-generation innovations are introduced to the marketplace. Alango technologies, such as ListenThrough™ and EasyListen™, as well as Wear & … Continue reading "CES 2020"
Future Health showcases the significant advances being made around the globe and inspires professionals to be progressive in their approach to the challenges we face. The event brings together government and policymakers, innovative products and solutions, and a global network of buyers and professionals. We are proud to participate as innovators in this space with … Continue reading "Future Health"
HearTech 2020 (formerly AAA), the American Academy of Audiology's annual conference and exposition, is the world's largest gathering of audiologists. This annual meeting provides participants the opportunity to attend four days of educational sessions, explore the latest in hearing technology, and network with colleagues from around the world. New Orleans, USA – April 1-3 – … Continue reading "HearTech (formerly AAA)"
Read More