BeHear ACCESS
Hearing amplifier for live conversations, mobile calls, streamed audio, looped venues
Personalized amplification only where you need it
Large control buttons and charging cradle for ease of use
Integrated telecoil receivers for looped venues
Rechargeable for up to 13 hours of use
Developed by experienced sound engineers and certified audiologist
30-Day Trial • 1-Year Warranty • Free Shipping Worldwide
$349
BeHear ACCESS is a stylish hearing amplifier for people who need enhanced hearing in specific situations. It looks (and functions) like a typical Bluetooth® stereo headset but also provides enhancement for all around hearing (live conversations, mobile phone calls, music play, ambient hearing), as well as assistive listening functionality.
A dedicated free smartphone app allows wearers to fine-tune sound in real-time, and built-in Telecoil receivers ensure best possible hearing in locales equipped with hearing loop technology.
---
BeHear ACCESS utilizes voice processing technologies developed by Alango Technologies, Ltd. over the past two decades, such as:
ListenThrough™ – Passing through important ambient sounds during music playback
EasyListen™ – slowing down speech dynamically during phone conversations
Personal Sound Amplifier – providing dynamic, compressed amplification of ambient sounds
Hearing enhancement functions – including noise reduction, echo cancellation, and more
---
The BeHear ACCESS assistive hearing headset belongs to a new category of sound enhancement products. It combines the functionality of three existing devices into one:
Bluetooth stereo headset for wireless mobile phone calls and media playback
Assistive hearing device for enhanced intelligibility of speech and other important sounds
Digital hearing aid for personalized sound amplification across a wide sound spectrum
---
Situational Hearing Enhancement:
When You Need It
BeHear ACCESS can enhance hearing for those with normal hearing, as well as people with mild to moderate hearing loss. This is true for all situations:
In-person conversations
Mobile phone conversations
Music/audio streaming
Television viewing
Movies, theater and concert performances
Outdoors, in nature
---
Customizable for Your Hearing Capabilities and Preferences
The headset itself includes a variety of controls to manage its hearing functions for six different hearing profiles:
Indoor
Outdoor
Crowd
Live Music
Telecoil (Exclusive)
Telecoil (Transparent)
---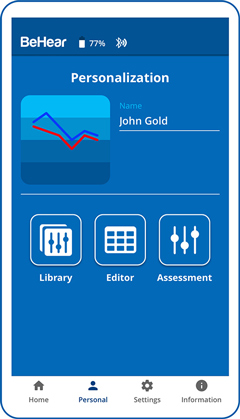 These profiles can be modified in real-time, based on the current sound environment and the wearer's preferences, using the W&H BeHear mobile application.
The application also includes:
Self-administered personal hearing assessment for automatic adjustment of the sound in each of the operational modes (ambient hearing, phone calls, and audio play)
Direct access to the video tutorials library
An option to set the balance between left and right ears
Assistive listening functions for phone calls and media playback
Various device settings, including default mode behavior, vibration alerts, and more
Product Specifications
Product Number
ABH-120
Bluetooth
Version 4.2, Class II
HFP 1.6, HSP 1.2, A2DP 1.2
Supported audio CODECs: SBC, aptX, aptX-LL
Range: 10 m
Acoustic Performance
Maximal Sound Pressure Level (OSPL90):

100 dB in talk and music play modes
116 dB in hearing amplification mode

Full-on Gain: 42 dB
Total Harmonic Distortion (THD): < 0.7%
Receiver Specifications
Speaker: 13.6 mm receivers
Frequency Response: 20 Hz to 20 kHz
Microphone Specifications
Microphones (4 in total):

Ultra low-noise 74 dB SNR ECM in each earpiece
Low-noise digital 64 dB SNR MEMS in each control box

Frequency Response: 100 Hz to 15 KHz
T-coil Receiver
Type: dual coil
Frequency range: 200Hz – 8kHz
Battery
Rechargeable single-cell Lithium Ion
Charging interface: Micro USB
Capacity: 250mAh
Charging time: 2 hours
Operation Time
Hearing Mode: 13+ hours
Talk: 10+ hours
Play: 8+ hours
Standby: 400 hours
Software Versions Supported by W&H BeHear App
Android: Version 4.4 and up
iOS: Version 9 and up
Physical Specifications
Neck loop form factor (behind the neck)
Headset weight: 47 grams (1.7 oz.)
Package weight: 640 grams (22.6 oz.)
Package dimensions: 2 1/8″ x 7 7/8″ x 9 1/8″ (54mm x 200mm x 232mm)
Vibration Alerts
(enabled/disabled via W&H BeHear app)
Power On/Off
Bluetooth pairing
Connection/disconnection
Connecting to charger
Incoming call (synchronized with call tone)
Package Contents
Headset
Charging cradle
Micro USB charging cable
3 types of silicone ear buds in varying sizes
3 sizes of silicone ear hooks
2 pairs of wind protection covers
Quick Start Guide
Durable travel pouch
Agency Approvals
CE RED
FCC
TELEC (pending)
SRRC (pending)
Hear it from satisfied users
Nourah Mumeen
March 10, 2021.
Order arrived quickly and Product is awesome.
Amazon Customer
February 2, 2021.
Great product! I loved it at CES last year and just had to have it.
Kindle Customer
January 31, 2021.
Since it was easy to lose other types, this one is hard to misplace and works well and can be programmed by the user with mild to moderate hearing loss.
Excellent service Received in perfect condition and earlier than perdicted.
Quite pleased with this seller. Product arrived in time for Christmas.
Ines Monguio
January 3, 2021.
arrived promptly. Instructions detailed and accurate. Easy to use.
Richard Whitish
December 6, 2020.
Better than I imagined they could be. They really help me hear clearer and better.
Tammy Clark
December 5, 2020.
These are great for mild to moderate hearing loss. My husband was told he would need $4K hearing aids so we thought we'd go with this option first. Made a world of difference!
Isabel L.
December 2, 2020.
Amazingly good quality product and working well. Smooth delivery within timeframe promised.
Paul Carter
November 12, 2020.
The product was very affordable, also it arrived in just a couple of days which is quite surprising.